Here to Remember
A commission for Black and Black mixed heritage artists to explore collective memory through music.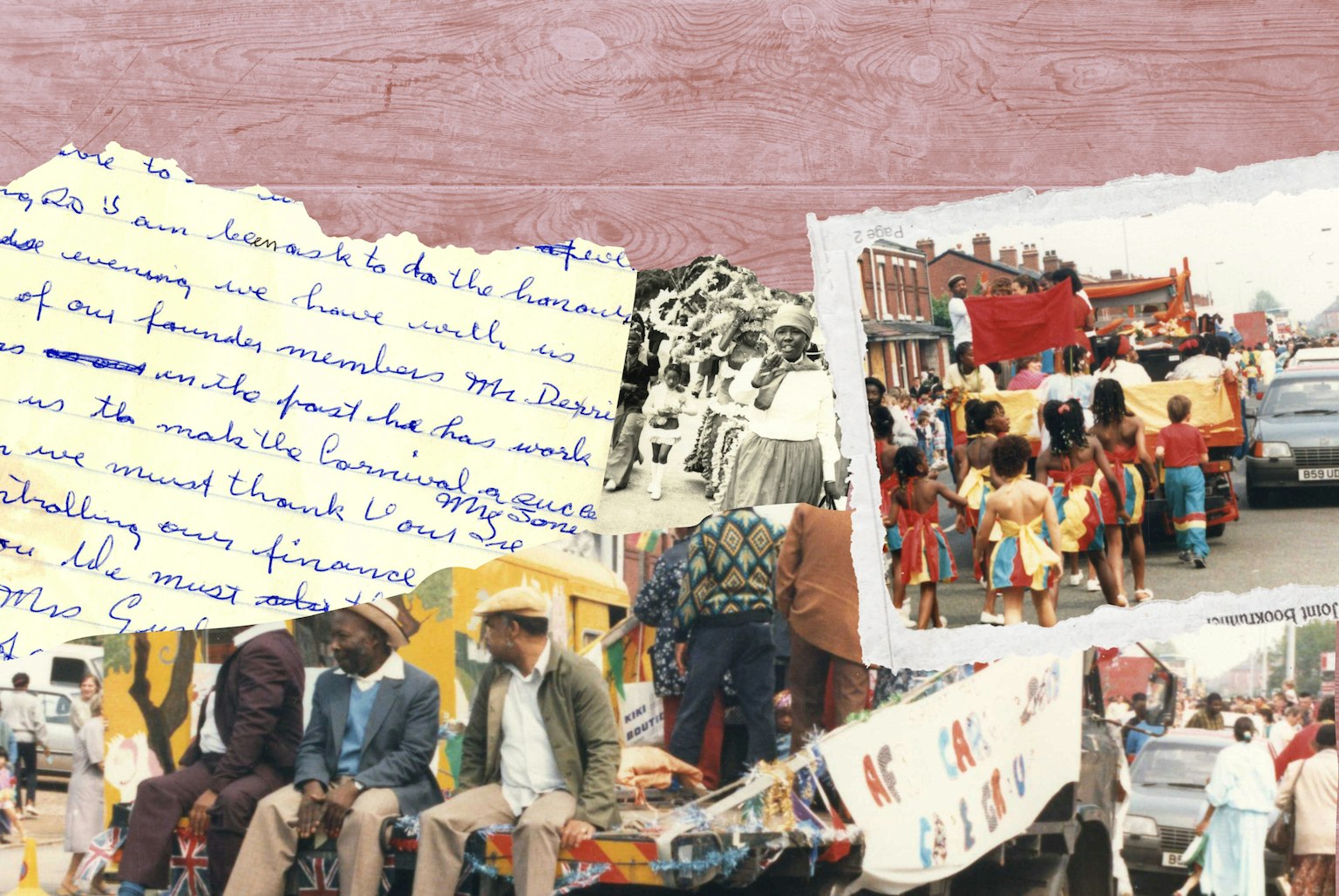 When

June-September 2023

Where

Manchester and online

Deadline

9th June 2023
Here to Remember is a commission for Black and Black mixed heritage artists to explore collective memory and folklore through their own experiences of history, memory and lineage.
This is for you if you're interested in:
Storytelling
Experimentation
Exploring the Black experience in your work through archiving, ancestry, memory and speculative art
What's involved
Commissioned artists will work individually to create around 15 minutes of new music.
Your creations will be inspired by the archives at the Ahmed Iqbal Ullah RACE Centre, which focus on the history of global majority communities in Greater Manchester and beyond.
You'll also:
Receive one-to-one mentoring from award-winning singer, multi-instrumentalist and songwriter Angeline Morrison
Take part in group workshops with interdisciplinary artist and researcher Khaleb Brooks and turntablist NikNak to explore archiving and storytelling as a creative practice
Showcase your work at a performance in Manchester in September 2023
Receive a fee of £1500
We understand this commission will be deeply personal for artists. The content of the creative output will be led solely by the commissioned artists, with the Brighter Sound team providing practical and pastoral support.
"The themes of archives, of collective memory and oral memory feel really linked with the Black experience. This is a space for artists to explore that and make music out of it. Music is such a great way to revive history, and put soul back into it. The ability to be able to revive and tell a story that you connect to in your own way. That's how memory is kept alive."
Kinaya Said Ibrahim, Project Coordinator, Brighter Sound
Hear about the commission from Project Coordinator Kinaya
Who it's for
Here to Remember is open to musicians:
Aged 18+
Who identify as Black or of Black mixed heritage
From or based in the North of England (North East, North West and Yorkshire regions)
We want to hear from artists from a range of genres, backgrounds and musical disciplines.
So if you think "maybe my style isn't right for this" - nope, absolutely apply!
Costs
Alongside your fee of £1500, we'll also cover:
Travel, accommodation and expenses
Access costs for things like disability support, translation or childcare
When and where
Friday 30 June
Visit to the Ahmed Iqbal Ullah RACE Centre at Manchester Central Library
Saturday 8 July
One-to-one session with folk artist Angeline Morrison in Manchester
Tuesday 8 August
Online workshop with interdisciplinary artist and researcher Khaleb Brooks
Tuesday 12 September
Workshop with turntablist NikNak in Manchester
Thursday 14 September
Performance in Manchester
August-September (date tbc)
Follow-up session with Angeline Morrison, online
How to apply
In our application form we'll ask you for some basic details, along with the following questions.
Please tell us a bit about yourself, your career-to-date, and what kind of music you make.
What interests you about the themes of this commission?
How would this commission help you to develop creatively and professionally?
You can either answer these questions in writing, or you can record yourself. If you do this, you'll just need to include links to your video or audio recordings.
The application deadline is 11pm on Friday 9 June.
We encourage you to submit your application before the deadline but don't hesitate to get in touch if you need more time.
You're welcome to apply with support from a personal assistant or carer. If there's anything we can do to help you apply, please let us know.
Complete an application by heading over to our Google Form.
Nominate someone
If you know someone who you think would be interested in taking part, why not nominate them?
Send the person's name and email address/social media profile to [email protected] and we'll send them the application details.
Safer spaces
At all of our projects we aim to create spaces that are welcoming, engaging and supportive. Spaces where everyone is able to be themselves, but also where abuse and discrimination are not tolerated.
Read our Safer Spaces Policy for more information.
Got questions?
Get in touch with our Project Coordinator Kinaya by emailing [email protected].
Or you can give us a call on 0161 546 5334. Please leave a message and we'll get back to you.
About the artists
Angeline Morrison is a singer, multi-instrumentalist and songwriter who explores traditional song with a deep love, respect and curiosity. Angeline mostly makes music in the genres of wyrd folk and psych folk, her work infused with elements of soul music, literature, '60s beat pop sounds, folklore, myth and the supernatural. With a feral approach, a handmade sonic aesthetic and a belief in the importance of tenderness, Angeline's original compositions and re-stitchings of traditional songs focus on storytelling and the small things that often go unnoticed. Sounds like solitude, memory, nostalgia, a rainy walk amongst trees…
Khaleb Brooks is an interdisciplinary artist utilising archives, collective memory and personal experience to offer new perspectives on history and healing. Brooks has exhibited and performed at the Institute of Contemporary Art (2021- 2018), Schwules Museum in Berlin (2019), Gazelli Art House in London (2022- 2019), 198 Contemporary in London (2017) and more. As a part of Onassis Air's Tailor Made Fellowship, Brooks is currently in Salvador, Brazil conducting research on Afro-Indigenous cultural practice. Khaleb's work offers a new voice to the art world, one that lies at the intersections of blackness, transness and healing.
Described as a "musical polymath" by Clash Magazine, NikNak is also a multi-disciplinary artist and music creative with many roles in the industry. As a DJ, NikNak has shared the stage with the likes of Mr Scruff, Lefto Early Bird, Ila Brugal, Jamz Supanova, Craig Charles, Om Unit, Jon1st, Grandmaster Flash and many more notable artists. Each NikNak set is expansive, unique, ambitious, genre-defying, and serves as a testament to her sponge-like musical knowledge. As an artist/producer, NikNak is the first Black Turntablist to win an Oram Award in 2020 and regularly pushes boundaries on what the turntables are capable of.