Formidable interdisciplinary artist Nwando Ebizie leads this exciting disabled-led project which explores access as a creative practice.
The artists were chosen following a callout for women and people of marginalised genders who identify as D/deaf, Disabled or Neurodivergent.
The installation will celebrate the museum's headline exhibition, Nothing About Us Without Us.
Fancy coming along?
It's free to attend for one night only on Thursday 8 December from 6pm. Get tickets.
"I am a constellation point for a spectrum of multidisciplinary works and practices that call for radical change. I fabulate the Black Fantastic: ritualised speculative fictions and alternate realities at the intersection of live art, experimental music and multi-sensory installation."
Nwando Ebizie
The Artists
Ada Eravama is a Nigerian-born visually impaired theatre facilitator, audio description, movement consultant, and director based in Manchester. She is passionate about making physical theatre accessible to visually impaired audiences. Using creative integrated audio description and her background in performing arts and dance, Ada creates sensationally sensory-inclusive work challenging audience perceptions through satire, laughter, and love.
Charlotte Marlow is a composer and performance artist based in West Yorkshire. Their practice is driven by social mobility in music, and the exploration of gender narratives in composition and performance practice. Charlotte is particularly interested in activism and social commentary through art.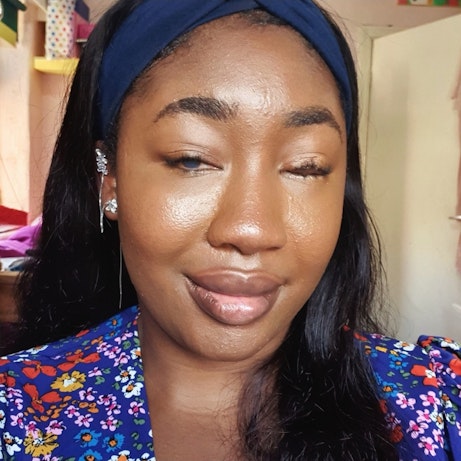 Clare McNulty is a multidisciplinary artist, writer, performer and music producer based in Manchester. Clare's work is inherently queer and seeks to promote positive social changes and inclusive perspectives. Clare is neurodiverse and their work aims to highlight the beauty of difference - often politically charged responding to society and social deficits.
Eleanor Louise West (they/she) is a non-binary Disabled visual artist. Their work mainly works with textile and fibre arts mediums and thematically reflects on their own experiences as they navigate the world through the intersections of their identities. Eleanor works with symbols and atheistic of archives throughout their practice, bringing historic activist visuals to communicate stories and experiences in the modern age.
Elena Piras inherited her father's love of singing, particularly folk music, from a very early age. Since moving to the UK at the age of 18, Elena has lived in London and then Scotland where her work at the Royal Scottish Academy of Art gave her the opportunity to become fully immersed in the local music scene. In November 2020 Elena released 'Where the Wind Blows', a collection of traditional Scottish and Gaelic songs and works by famous artists such as Sting and Tom Paxton.
Jian Yi is a multidisciplinary artist, performer and curator. They established JTTE productions in 2021 as a framework to support the new JTTE performance art festival and as part of their ongoing research and enquiry. Jian Yi's practice is rooted in an ongoing enquiry into the ambiguities of emotional experience. Through their multidisciplinary performance art work, they seek to explore the experiential trauma of marginalised persons within our society, such as neurodiverse and queer people of colour, and how we reflect on the broader human condition.
Megan Steinberg is an experimental composer and abstract turntablist based in London. She works with found sound, chance procedures, graphic scores, quietness and microtonality. Megan is studying a PhD at Royal Northern College of Music, where she has been appointed the Lucy Hale Doctoral Composer in Association with Drake Music. Her project is focused on the creation of works for Disabled musicians, new instruments and AI.
Rosie Woolaghan's creative practice explores her relationship with her body and environment as a person who lives with chronic pain. She practises multimedia stop motion animation which focus on the everyday nature of chronic pain, situating these difficult sensations in ordinary environments. As a result, she aims to foster conversations about how disability touches on the simple aspects of everyday life.