Tom Rabbani joined Sing City, our weekly music group for young musicians in 2018. Two years later he joined our Board of Trustees.
When I first came to Brighter Sound I was a 17 year old musician who didn't really know what was what. I had just moved to Manchester and made the decision that music was a serious career consideration.
After seeing an ad online I joined a weekly group for young musicians called Sing City with my two younger brothers. Sing City was all focused around creating original music. The facilitators were Phill Howley and Natalie McCool. Not just amazing teachers and personalities, but people who had actual experience in the industry and were working musicians themselves.
What Phill, Nat and the other facilitators did so brilliantly was oversee what we were doing without overstepping into our creative spaces. There was a lot of trust. It was hands off in the right ways, and hands on in the right ways as well.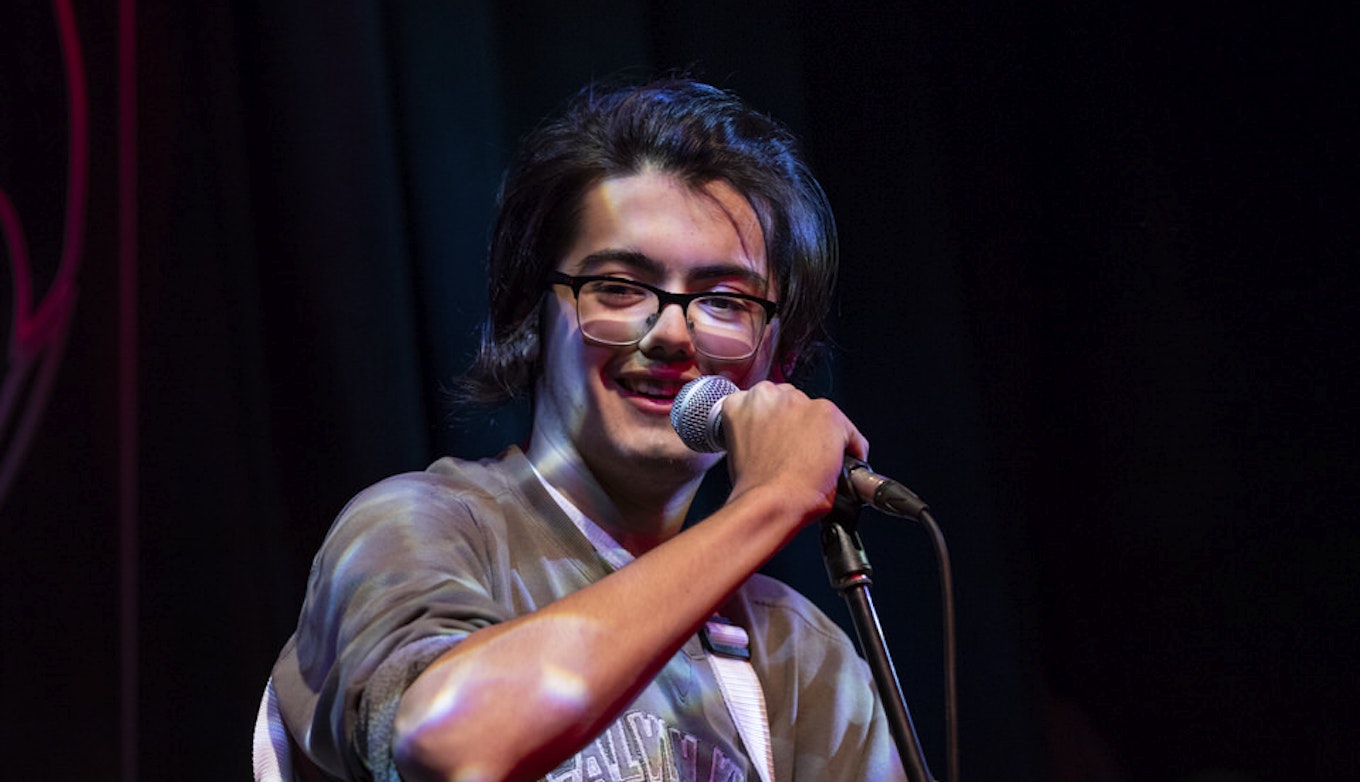 Tom compering a Sing City Live night
I went into Sing City thinking I just wanted to write and perform. But it really opened up other skills and things that I could do and get involved with. A couple of years in I got the opportunity to organise a gig of my own with a couple of the other participants. It was an amazing experience. We did it at Band on the Wall and it sold out!
It definitely made me realise my own power. Not just as an individual artist making music for myself, but the impact that I could have on other people. How it was possible to bring other artists to the stage from disadvantaged backgrounds. That really gave me a sense of access to the industry that I'd never felt before.
I think inclusivity is one of Brighter Sound's biggest strengths. It's a very safe environment. It didn't feel like this music industry was such a big thing anymore. Just feeling heard and feeling seen, I think really helps.
I've been on the board for about 18 months. I've learned a massive amount about the inner workings of the company. I'm the youngest member on the board so I feel that my input is important.
I've learnt a lot about myself. It's really instilled confidence in me to be able to go out there and shake someone's hand and say, let's make something together.
I want to keep learning and getting new experiences for myself, because I think that's what's going to eventually lead me to a fulfilling career.
I've also developed a passion for creating music spaces for other people as well. Right now I feel my place is starting to be a role model for people who were where I was just three or four years ago. Especially as someone from a mixed race background.
I've still got so much to learn but I don't feel like I'm going into the industry just as an artist. I feel like I'm going in as a voice and as a power that can make a change.
Find out more
"I don't feel like I'm going into the industry just as an artist. I feel like I'm going in as a voice and as a power that can make a change."
Tom and his brothers recording a song they created at Sing City.